Crafts for Kids@UHEC: Wood Inlay Workshop (Virtual)
In this workshop, young artists will learn about Ukrainian Hutsul-style wood work crafts & wood inlay and create their own wood inlay inspired craft.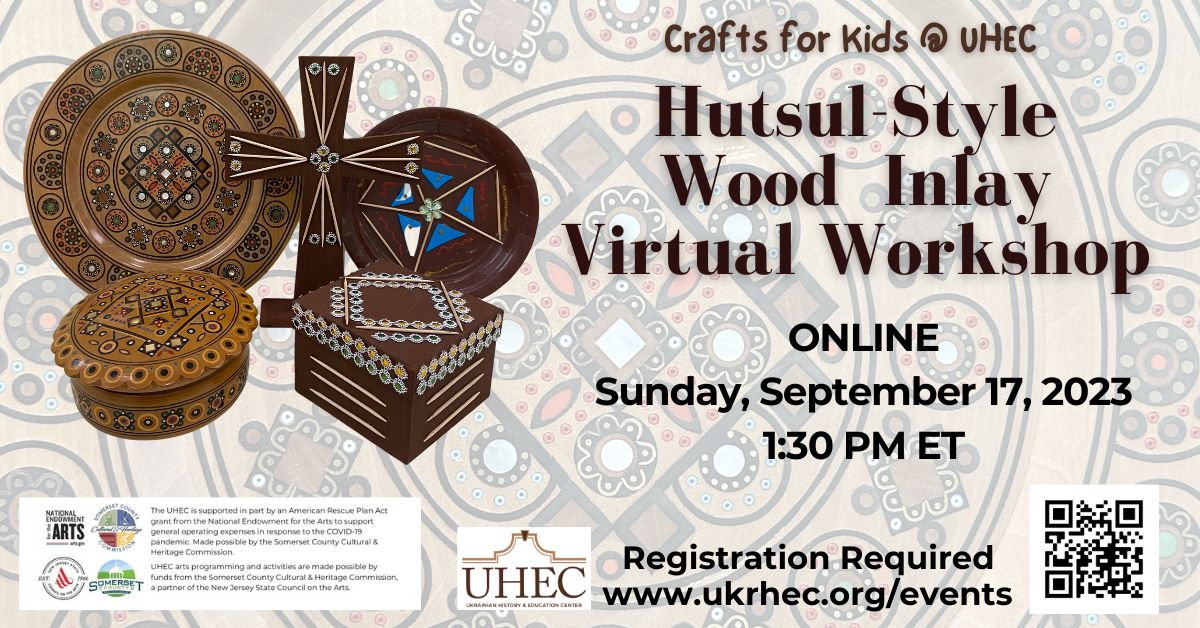 Inlaid woodwork & wood carvings are one of the most well-known aspects of Ukrainian folk art. For many centuries, Ukrainians carved wooden plates, spoons, bowls, canes, boxes, candlesticks, crosses, sleds, frames, and other larger objects to be used for both the decorative and applied arts. These objects were made of solid wood, first painted or stained, then geometric patterns and designs were carved by hand, and the details were painted or further decorated through the addition of inlaid design elements made of colored wood, bone, metal wire, pearls or beads.
This is a VIRTUAL workshop. The workshop will be live, interactive and will not be recorded. 
Suitable for grade school aged children. Seating is limited to 25 participants.
You must provide your own supplies for this workshop.
Supplies List:
Craft Box, Wood Blank or Brown Paper Plate

Can be purchased at any crafts store or Dollar Tree type stores

Brown paint and paint brush (optional)

NOTE: if you do plan on painting your wood or craft blank, please do so AHEAD of Sunday's workshop

Glue
Scissors
Glitter Glue (optional)
Decorative Elements: toothpicks, sequins, beads, seed beads, foam stickers, ribbon/rope, and other colorful decorative elements  

This workshop is FREE, but registration is required. The day before the event, you will get a personalized link to access the workshop. 
Donations gratefully accepted.
Registration closes Saturday,September 16

When
September 17th, 2023 from 1:30 PM to 3:00 PM